COVID-19 and telemedicine services for independent practices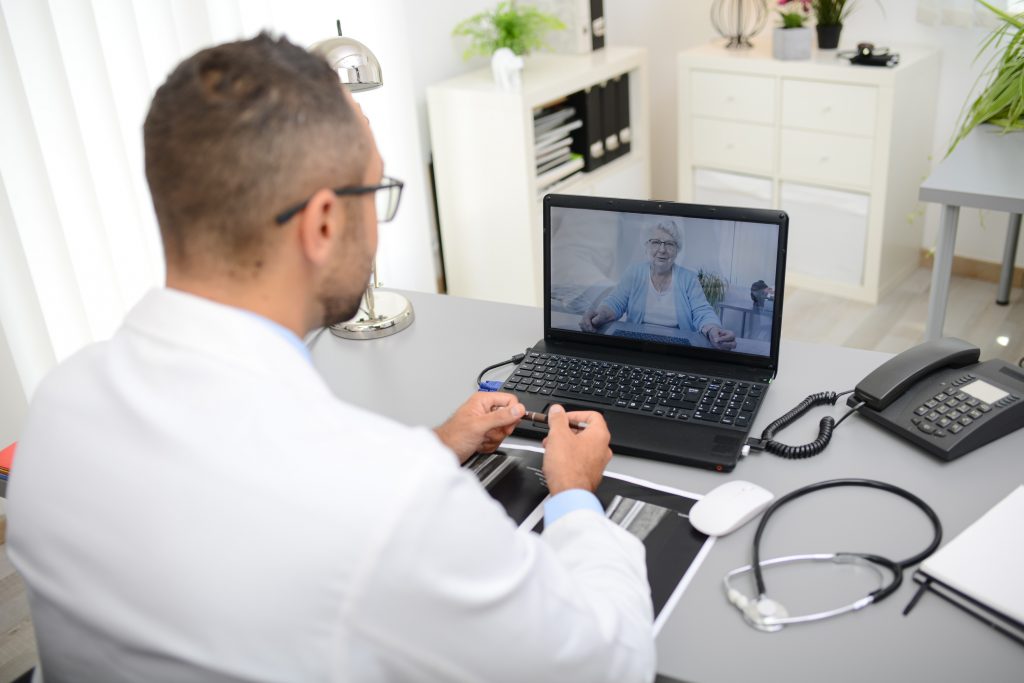 To reduce risk of exposure during the COVID-19 outbreak, we encourage your practice to explore alternative methods to check-in with your patients and evaluate their health.
There are a number of telemedicine services that may be reimbursable by CMS and private payers. CMS specifically categorizes telemedicine services in 2 groups: telehealth visits and virtual check-ins.
Telehealth Visits
Telehealth visits are full-visits and have historically been subject to stringent requirements in order for providers to be paid (ex. a patient must be from a rural area and present at an approved facility as the "originating site" of service). Recent legislation passed on March 6, 2020 grants the HHS Secretary the authority to lift such requirements in the event of a public health emergency.
For billing eligible visits, in many cases, coding for telemedicine services uses the corresponding codes for an in-person E/M visit with the -95 modifier and "02" for place of service.
According to the American Academy of Asthma & Immunology:
"Some private payers permit telemedicine visits for new patients, but not with the standard new patient CPT codes. Instead, they require billing with code 99499 (Unlisted evaluation and management code) with place of service "02".Medicare used to require modifier GT for synchronous visits and GQ for asynchronous visits, but this has been eliminated as of January 2018. Instead, the place of service code should also be designated as "02"."
Virtual Check-ins
Virtual Check-ins are reimbursable services for brief communications between providers and patients for specific purposes. These services are not restricted by originating site and other Medicare telehealth regulations. They can be provided when patients are in their homes, regardless of public health emergency declaration. These services can be rendered via telephone, email, or Elation's Patient Passport.
Please note, patients must be established Medicare beneficiaries (i.e. seen by the practice in the last 3 years). You must also document in the patient's chart that patient consent for the "check-in" was verbally provided.
Their billable codes and CMS Physician Fee Schedule Non-Facility estimated prices are listed below. Please note that these reimbursement rates may differ based on your locality for Medicare. Please check your health plan provider network representative for your contracted rates.
Furnished using telephone
G2012: Virtual visit performed by a physician provided to an established patient, not originating from a related E/M service provided within the previous 7 days nor leading to an E/M service or procedure within the next 24 hours; 5-10 minutes of medical discussion. ($14.80)
Furnished using email
G2010: Remote evaluation of recorded video and/or images submitted by an established patient, including interpretation with follow-up with the patient within 24 business hours, not originating from a related E/M service provided within the previous 7 days nor leading to an E/M service or procedure within the next 24 hours. ($12.27)
Furnished using Elation's Patient Passport (must be patient initiated)
99421: Online digital evaluation and management service, for an established patient, for up to 7 days, cumulative time during the 7 days; 5-10 minutes ($15.52)
99422: Online digital evaluation and management service, for an established patient, for up to 7 days, cumulative time during the 7 days; 11-20 minutes ($31.04)
99423: Online digital evaluation and management service, for an established patient, for up to 7 days, cumulative time during the 7 days; 21 or more minutes ($50.16)
G2061: Qualified nonphysician healthcare professional online assessment and management, for an established patient, for up to seven days, cumulative time during the 7 days; 5-10 minutes ($12.27)
G2062: Qualified nonphysician healthcare professional online assessment and management service, for an established patient, for up to seven days, cumulative time during the 7 days; 11-20 minutes ($21.65)
G2063: Qualified nonphysician healthcare professional online assessment and management service, for an established patient, for up to seven days, cumulative time during the 7 days; 21 or more minutes ($33.92)
For more information on how to leverage Elation's Patient Passport feature for Virtual Check-ins, please visit the following links: